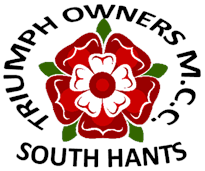 Details about the South Hants branch
Colours: Black-Silver
Contact: Tracy Piper - Phone: 02380271320
Email the Branch:
Events
All ride-outs meet at the Hunter's Inn by 7:30pm.
2023
February
South Hants branch club meet at Milbury's, Beauworth 7.30pm onwards
As some of you may know, the branch is looking to relocate our regular Friday meetings. To this end, we have been visiting local pubs to assess their suitability so, we are paying a second visit to The Milbury's pub on Friday 17th February as this does appear to be a very suitable location. It has a large carpark and very welcoming landlord. Also an added bonus is that it hosts regular meets from other motorcycle clubs giving us an opportunity to join forces with them on events or Rideout's etc. We really do need the support of our members to make this happen, so can we please urge as many branch members as possible to join us next Friday from about 7.30pm onwards.