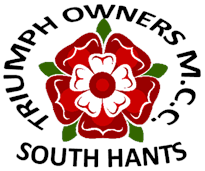 Details about the South Hants branch
Colours: Black-Silver
Contact: Tracy Piper - Phone: 02380271320
Email the Branch:
Location
The Barleycorn Inn, Basingwell Street Lower, Bishop's Waltham, Hampshire SO32 1AJ - Meets: Fridays 19:30
Events
All ride-outs meet at the Hunter's Inn by 7:30pm.
2023
September
South Hants AGM
AGM at the George and Falcon at Warnford 7pm for 7.30pm start
December
South Hants Xmas meal
Xmas meal at the Phoenix pub, Twyford. Details to follow...
Committee
Chairman

Graham 'Jim' Massey

---

Committee Member

Geoff Carson

---

Committee Member

Mike Smith

---

Events Secretary

Charly Smith

---

---

---