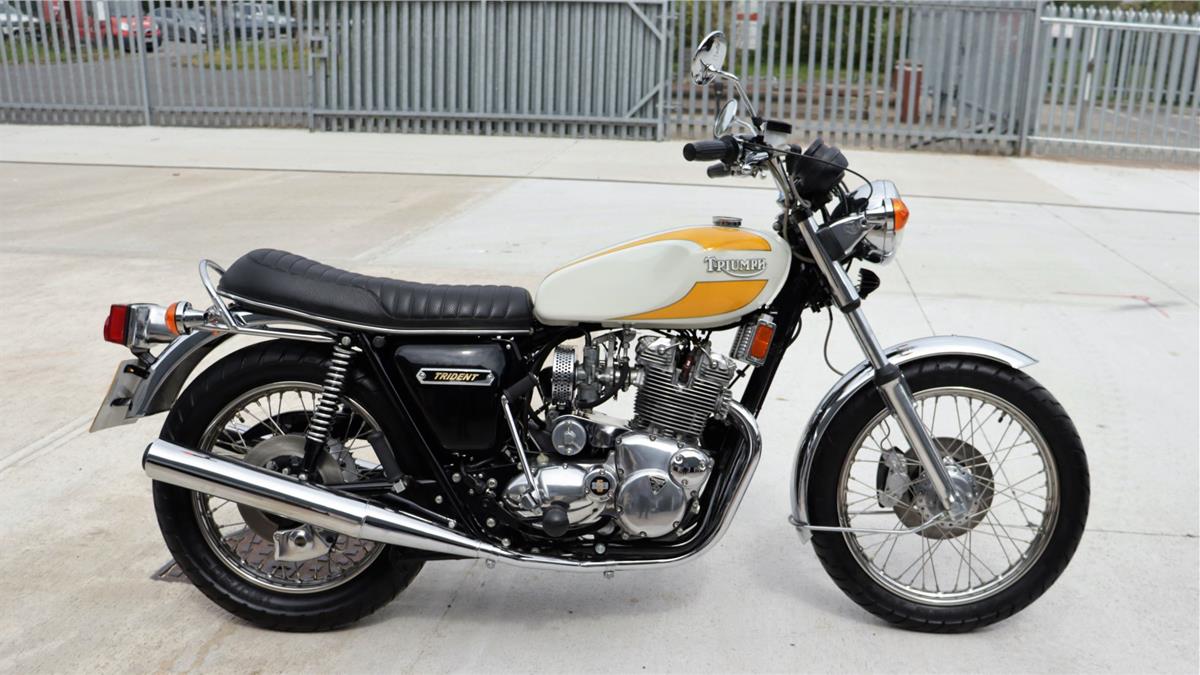 On the 20th July 2022 in fact. There are currently five Triumphs up for auction and more may be added in the next month. For now the star of the Triumph lots is a stunning Trident T160, but there are some other machines that may be of interest. You can pick up some good bargains at Classic Auctions.
The auction is being run by H and H who do a lot of classic auctions. The venue will be the National Motorcycle Museum in the UK and the auction starts at 1pm on the 20th July 2022 (viewing from 9am). There are a lot of errors in the listings though - so check the info on the lots very carefully.
The Trident T160 is estimated to fetch between 12 and 14 thousand pounds. The XK01684 matching frame and engine number makes it a 1975 model and it looks like a nice job has been done. It's not going to be a bargain though and I suspect it will go to a collector for a bit more.
We do have a well priced but mis-labelled Bonneville T140E (it's labelled a T120). Looks like matching JA11427 numbers making it a 1979 model (built August 1978 and sent to the USA). £5.5k to £6.5k estimated.
There's a matching numbers 1969 Trophy TR6C estimated at between £6,000 and £8,000.
There's also a matching numbers 1962 (mislabelled as 1961) TR6SS D17183 (not correctly specified in the listing) from January 1962 that went to Jomo in the USA, estimated between £5,000 and £7,000. There are problems here. The engine number is definitely stamped D17183 and the Title document shows the same number but the letter from the TOMCC Machine Registrar at the time is for number D17185 not D17183 and the date looks wrong too so what is going on here? Like I said above, check everything very carefully!
There is also a 2008 Bonneville with a Watsonian sidecar but that looks a bit pricey.
See the H and H website for more details.