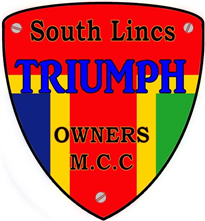 Details about the South Lincolnshire branch
Contact: Ian Waumsley
Email the Branch:
Information
The branch members have mainly Modern but there are some classic Triumphs
Runs, rallies, touring and monthly branch meetings.
Location
The Nags Head, 2 Abbey Road, Bourne, Lincolnshire, PE109EF - Meets: Last Monday of every month at 1900hrs
Also meets at: The Goat, 155 Spalding Rd, Deeping St James, Peterborough PE6 8SA
Events
2023
March
Branch Meeting at The Hammer and Pincers, Boston
Our first 2nd monthly branch meeting to be held at The Hammer and Pincers Swineshead Rd, Wyberton Fen, Boston PE21 7JE. Arriving from 6pm If you live in the Boston area please come and join us :-)
May
MCN Festival of Motorcycles
We will be having a club stand at the MCN Festival Of Motorcycles on the 13th & 14th of May at the Showground in Peterborough. We will be camping for two nights Fri 12th & Sat 13th. If you would like to display your bike but can't make it on Friday afternoon you can bring your bike along on Saturday morning at 8am & ride it home after the show finishes on Saturday after 5pm. The same applies for the Sunday. If you display your bike you will get free entry into the show. We need to know who is coming for the entire event and also who will be only attending Saturday (and if you are camping overnight) or Sunday for the day.
July
Boston Bike Show
Outdoor bike show at Central Park, Boston, Lincolnshire, Pe216ae
August
Big Branch Bash 2023
Big Branch Bash 2 An event for all branches to get together for a weekend of ride outs and partying. The event location is GREETHAM COMMUNITY CENTRE, GREAT LANE, OAKHAM, LE157NG Site opens at 2pm on Friday. On site catering for breakfast and evening meals Bar opens at 2pm both days, entertainment starts at 4 till midnight both nights. Toilet and shower facilities. Weekend tickets £25 per member (partners welcome) Please email Ian on sltomcc@gmail.com for a branch entry form.
Click here for more details
October
Skegfest 2023
PLEASE NOTE THE CHANGE OF VENUE! Golden Palm, South Rd, Chapel St Leonards, Skegness PE24 5TR. Prices for the 3 night stay at The Golden Palm Holiday park for Skegfest 2023, 13th-16th October. 6 berth Elm £179.00 6 berth Willow £199.00 6 berth Oak £210.00 6 berth Access £210.00 6 berth Villa Alto £210.00 6 berth Mulberry £250.00 6 berth Maple £250.00 8 berth Cedar £200.00 8 berth Larch £218.00 8 berth Sycamore £250.00 (These prices already include a 35% discount) Call 01754 874444 and select option one for booking (only open during office hours) Please make sure you tell them it's for the Triumph Motorcycle Owners MCC event when booking. £50 deposit or full payment 😊 It's a big site compared to Richmonds holiday park so you might want to ask about the caravan location if you don't like a bit of a walk to get to the facilities. THE SITE ARE HOLDING 55 CARAVANS FOR US FOR ONE MONTH! After that it's pot luck if you get a booking. If you want to come to the event in a touring caravan please call 01754 875324. This is East View Caravan park, which is right next door to The Golden Palm site and is connected by a private footpath. Cost for the three nights is about £82.
Click here for more details
2024
August
Big Branch Bash
Big Branch Bash 3 2024 An event for all branches to get together for a weekend of ride outs and partying and motorcycle show. The event location is GREETHAM COMMUNITY CENTRE, GREAT LANE, OAKHAM, LE157NG Site opens at 2pm on Friday. On site catering for breakfast and evening meals. Bar opens at 2pm both days, entertainment starts at 4pm till 11:30pm both nights. Toilet and shower facilities. Weekend tickets £25 per member (partners welcome) Please email Ian on sltomcc@gmail.com for a branch entry form.
Click here for more details
Committee
---

Events Officer

Kelvin G Dyson

---

General Officer

Albert Riddel

---

General Officer

Paul Pleasant

---

General Officer

Michael Boaden

---

General Officer

Ray Major

---

News Officer

Andy Pugsley

---

Rep for Boston Area

Simon Holstead

---

---

---