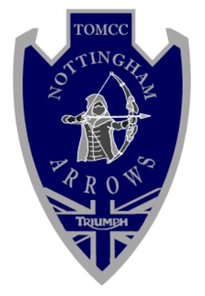 Details about the Nottingham branch
Colours: Silver on Blue
Email the Branch:
Information
Nottingham Branch of the TOMCC meets on the last Wednesday of the month at the White Hart, Lenton, Nottingham, NG7 2LT and celebrated its 40th anniversary in 2020. We encourage owners of Hinckley, Meriden and earlier Triumphs to come along to see what the branch is all about. We offer a warm welcome to potential members, so come along and meet us and learn more about the Nottingham Arrows.
We have regular ride outs catering for all types of Triumph motorcycles with various meeting points and distances to cater for all members and their bikes.
We also have had biking trips away to various locations in the UK and have a trip to Brugge being planned but due to covid travel restrictions this has been postponed until 2022.
We also attend different events not only on our bikes but socially involving food and drink and meet on the last Wednesday of the month for our branch meeting.
Location
TBC contact Kevin Mouldycliff on email below for more details. - Meets: Last Wednesday of every month at 7:30pm
Events
2023
March
Bottesford Egg Run
Sunday 26th March leave The Rutland Arms Bottesford NG13 0AA at 11 o'clock. Please note there are 2 Easter Egg drops.
June
Nottingham Motor Show
The branch are having a display at the Nottingham Motorshow at Wollaton Park on Sunday 6th June for more details contact our events coordinator Dave Manning or Kev Mouldycliff.
July
Founders Day
The branch are having a stand at this event it's at Stanford Hall, Lutterworth for more details or to book your bike in please contact Dave Manning our events coordinator.
November
Bottesford Toy Run
Leave the Rutland Arms, Bottesford NG13 0AA at 11 o'clock please bring a toy and there are 2 toy drops. The branch will organise a meeting point to ride over to Bottesford nearer the time.
December
Nottingham Arrows Christmas meal
Meet in The Rose of England on Mansfield Road from 18.00 or be at Panda Mami, Milton Street 19.20 to eat at 19.30. Contact Phil Sampson for more details. This is now fully booked.
Committee
Chairman

Kevin Mouldycliff

kevin.mouldycliff@sky.com

---

Events Coordinator

Steve Dunn

stevegdunn1@gmail.com

---

Secretary

Alex Goulder

vgoulder@btlnternet.com

---

Treasurer

Al Godley

alan@carpsyndicate.co.uk

---