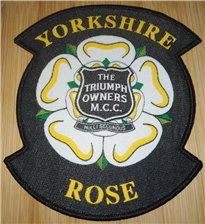 Details about the Yorkshire Rose branch
Colours: Gold , Green and White on Black
Contact: Stephen Orme , Secretary . - 2 Shackleton View , Cubley , Penistone , South Yorkshire , S36 6HT
Email the Branch:
Information
The branch is for the development of motorcycling for the owners in our area of Triumph Motorcycles of all classes and ages.
Our branch holds meetings on the first and third Wednesday's of the month at the Waverlery Inn on Brinsworth Road , Rotherham beginning at 730pm. This is normally a social meeting where members chat and exchange ideas. As the weather warms it can also be a ride out to a local venue . Other rideouts are also organised usually at the weekends to places of interest chosen by the members . Our grand event has to be our councours show usually held on the second meeting in June . We invite non members with all makes and ages of motorcycles to display their machines . Several trophies are awarded for age and type . We finish the year with a get together for a Xmas lunch .
Location
The Waverly, Brinsworth Road, Catcliffe, Rotherham, S60 5RW - Meets: 1st & 3rd Wednesdays monthly 7.30 pm
Events
Events are those chosen by members for the enjoyment off all members
2023
February
Ride Out to Elvington Air strip
From: Woolley Services NORTH M1
Click here for more details
July
Ride Out to Lakeland Motor Museum , windermere CANCELLED
From: Squires Cafe
Click here for more details
2024
June
Yorkshire Rose Concours show
This is our branch annual show for all visitors for all makes of machine with awards for a number of classes of age and type . Held at our usual meeting venue the Waverley Inn , Brinsworth Road , Catcliffe , Rotherhan S60 5RW . Usual drinks and hot food available . Event starts with arrival of bikes at 6pm . contact : Stephen Orme , secretary , 07989 284414 .
Committee
Mark Packham ,( Chairman ), Steve Rimmer , (Treasurer and Merchandise) , plus myself , Stephen Orme , (Secretary anad Scribe ), hold meetings seperately so that branch meetings remain a social event .
---

Runs coordinator

Mark Packham

---

---

---

---